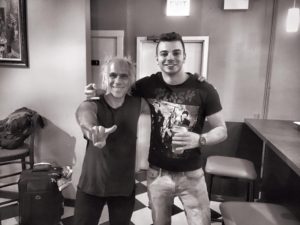 Up in Roscoe Village, towards Southport, broods a little hipster mecca known as the Beat Kitchen. It's here where I'm meeting with the Sound of Urchin. Urchin, who spent a couple years signed to RCA, are sublimely difficult to categorize. Which is exactly how they like it. Tomato, the frontman, who does most, or all, of the talking in our interview, is a unique creature unto himself. His hair is white, long, but bare on the very top of his head. He's a smaller guy, a full head shorter than me, but his personality carries the room (as anyone who has been to an Urchin show before will tell you). The closest comparison I can offer is a sort of mating between Ween (they have collaborated before) and The Offspring. I guess? Maybe. I don't know. There's a reason they left RCA, and you can hear it in their totally unique artistry, which spans anywhere from metal to country to reggae. You can also read it on their tour schedule. They've pulled up from Lawrence, Kansas, just a an hour or two ago before their show, after spanning New York to Seattle with a show pretty much every other day. This is how they are able to survive, and it's a disposition of integrity that, in the Spotify age, is refreshing.
He's accompanied by Reverend Bill, the guitarist, who I don't think said one word during our chat. The Reverend keeps to himself mostly, does not drink, but when on stage, absolutely shreds. He's like a big metal teddy bear.
The number one thing I notice about the venue and the crowd, and what I imagine is characteristic of Urchin shows, is the intimacy. This is a small venue, no doubt many other nights it is a bar with live music. This night, the Beat Kitchen is a show, tangentially featuring a bar. Everyone who is here really wants to be here. Ages range from 15 (probably not–but some of them look it) to 50 (Tomato is 47–sorry man–however, his presence and attitude exude the buoyancy of a 13 year old.
The energy of a frontman who is also the drummer is unique. Typical frontmen exude their charisma through gesticulations and posturing accompanied by their voice–a front drummer, Tomato in particular, communicates personality through of course his voice, but his charisma also manifests physically and auditorily through his instrumentation. You can feel the metal being beat into your chest. But very quickly it can become something else. The diversity of the show is as delight–just as soon as it's metal it's country, and then reggae, and then a fiery drum solo, and then a fiery guitar solo, and then another, and so forth. I feel like Bill is falling in love with his guitar, and I feel like this probably happens every time, his eyes rolling back in a borderline cliched fashion but all too real to be categorized as indulgent or cliched. If anyone is indulgent here, it is the fans, praying to Urchin, posturing at the foot of the stage, thrashing with unabated fervor.
My favorite Urchin song, Alligator Swamp, seems to have been playing for 6 minutes now, which I love, but I need beer and can't wait any longer, so I regrettably step out. And then, a few minutes later, I step back in, and it's still playing. This is how the rest of the show seems to flow–structured, virtuosic rock and roll improvisation and extensions. There are bands that are better in the studio, bands that are just as good live, and bands that are better live. Urchin falls in the far latter, and I don't think they would have it any other way. Chances are, with their touring habits, they'll end up in your city sooner rather than later, so keep an eye out. While short, Tomato's hair is hard to miss.
Written by Dylan Frederick – ASPFSP