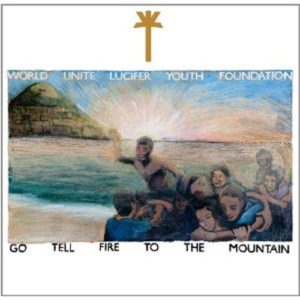 Remember waiting by the radio to record, on tape, your favorite song? Remember making mix tapes and covers for those mix tapes? Remember tapes at all? Music has changed, we have gone from physical to digital and some of the artist intent has been lost in translation. Because of this we want to offer a new feature on ASPFSP.com. Its called "From Start to Finish". This feature will be focused on highlighting new and classic albums that are best experienced from beginning to end, or… "From start to Finish". For our first addition we bring you WU LYF.
"Go Tell Fire to the Mountain" was the debut and only album from the English band WU LYF. This album was highly anticipated due to heavy backing from indie media outlets and the mystery surrounding the bands existence. Although they had heavy hype, the band avoided interviews and added to the mystery by using cryptic imagery and recording this release in an abandoned church in Manchester.
Go Tell Fire is a big record, drenched in echo with vocals that border on screaming and desperation. The music is dramatic and was written to be heard as a collective piece. Unfortunately the band broke up due to creative differences, but left this album to be experienced. If you are looking for more music from the now defunct WU LYF, check out LUH, Singer Ellery Roberts and girlfriend Ebony Hoorn's band or Los Porcos comprised of WU LYF;s remaing members.