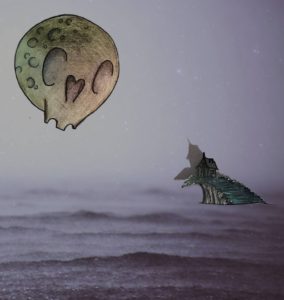 Beauty School – Ghost Beach
Released 9-30-2016
A self-described 5 song  elegy to summer, 15 seconds into "Star Sign" (the first track) and it is fairly clear that this is a translucent reflection on something more than seasonal. Yet Ghost Beach (the Chicago outfit's first EP), while certainly reflective, is simple, emotionally pithy, and without any fat to trim. Honestly I think my favorite lyrics on the whole EP are the first two: "Never cared about your star sign/until it became an excuse/I never cared about commitment until you cut me loose." Who hasn't felt that? If you say "I, me, myself," I know that you're a liar and exactly who you're voting for.
About 2:15 minutes of light, poppy surf riffs, we move into "The Moon," the chorus of which is powerful but simple, mesmerizing and carrying on the writer's romantic farewell. From here, we arrive at "Shore House," an unsettling, dreamy-opiate laced interlude that fittingly precedes the initial internal conflict in "Summer With You." Here, we are re-acquainted with the surfy, dreamy indie-femme pop the EP begins with. In "About The Ocean," the themes of the, uh, the ocean, are further displayed. "About The Ocean" is also the fifth and final track, and about twice as long as those that precede it.
There is something inherently reflective about the ocean–anyone who has spent anytime alone watching the waves break know this. This is particularly true during times of internal conflict, and Beauty School's leverage of what can be an extremely deep and complex artistic motif as relatively simple and accessible is refreshing and appreciated. Upon first contact, I am reminded of a sort of mellowed-out Dum Dum Girls and Tijuana Panthers hybrid, with very pointed and enjoyable lyricism on display.
Written by Dylan Weinert of A Sunny Place for Shady People